Advancements in digital technologies are shaping the world. [1] They are steadily promoting human welfare by introducing efficiency to every aspect of life, at affordable prices, and to people from almost all the economic classes and social backgrounds, positively contributing to boosting gender equality, youth inclusion and the demand for jobs fueling the digital economy. Accordingly, brand new business models and products have emerged, putting these technologies into practice, ensuring transparency and contributing to international growth. Today, the size of the digital economy stands at $11.5 trillion (15.5% of the world's GDP).[2] This number is expected to more than double in a decade.[3] This economic transformation has effectively rearranged the traditional rich-poor countries dichotomy.
Within this global context, all UN member countries reaffirmed their commitment to achieving objectives of the 2030 Agenda and utilizing it to transform the world for the better by 2030, including "empowering people and ensuring inclusiveness and equality".[4] Given the developmental challenges in in the Arab region, can digital development play a role in achieving these goals?
Through an in-depth regional exercise, a collective effort was launched to assess the opportunity to achieve these universal aspirations through Digital Development. This article illustrates the key policy implications of this process launched by the UN Economic and Social Commission for Western Asia (ESCWA) and several partnering UN organisations and Member Countries in 2018. It culminated in 10 National Digital Development Reviews and a flagship publication, entitled the "Arab Digital Development Report". The ultimate aspiration of this collective regional effort is to pave the road for a comprehensive Arab Digital Agenda.
How Can We Assess Digital Development?
The approach of the Arab Digital Development Report 2019 involved conducting National Digital Development Reviews (NDDRs) for individual Arab countries.  The process involved collecting data and information regarding digital development structured in five groups that represent an amalgamation of the action lines adopted at World Summit on Information Technology (WSIS), into a more sustainable development-oriented set of clusters, namely:
Digital Strategic Frameworks;
Infrastructure, Governance and Legal Environment;
Digital Economy, Employment and Trade;
Digital Transformation and Social Inclusion;
Culture and Media.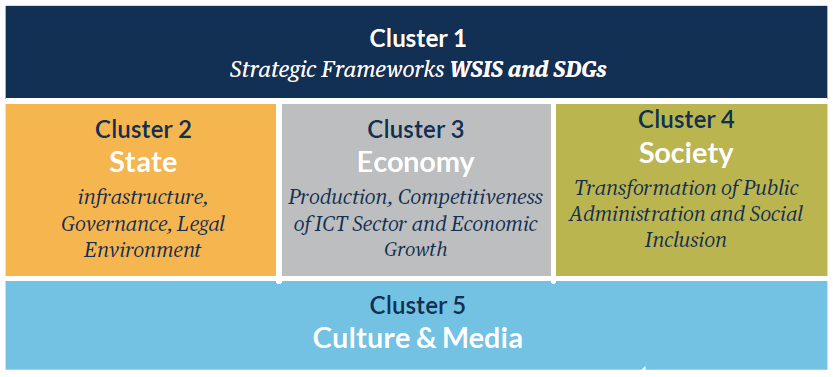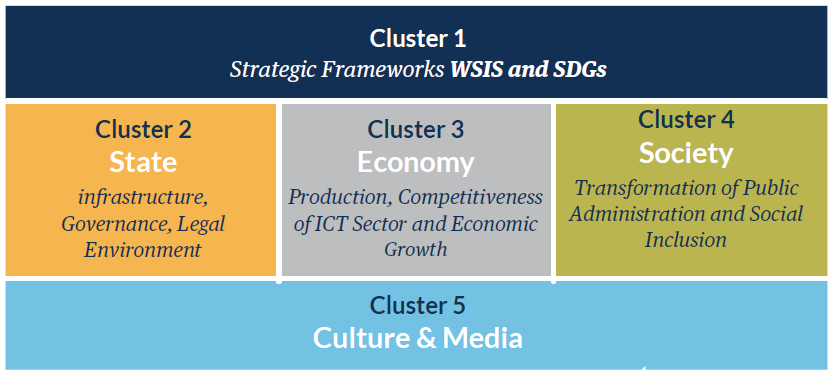 The primary focus of the ADDRs is to provide a thorough review of digital technologies in the Arab region in its quest to close rapidly widening gaps before 2030. The secondary focus of the reports was a developmental lens aligning with the goals of "Transformation towards sustainable and resilient societies" and "Empowering people and ensuring inclusiveness and equality".[5]
This generated a systematic assessment of the progress made in the main areas of digital technologies in the Arab region, with an extended up-to-date situational analysis of main efforts exerted, challenges faced, and policy reforms undertaken in the Arab region in terms of digital development, while identifying required policy actions.
The State of Digital Development in the Arab Region
Across the Arab region the following behavioral trends of Internet users were observed: (i) mobile telephony is on the rise, particularly 3G and 4G mobiles; (ii) the gender gap in the use of the Internet is much smaller in the Gulf Cooperation Council countries than in the other Arab countries, which is higher than the average gender gap in developing countries; (iii) social media applications are most used on the Internet, particularly voice/video calling apps; (iv) e-commerce applications have less than average use in the Arab region, with e-government and financial services even less used; (v) affordability of the Internet is rather low in most Arab countries.
Online Behaviors in the Arab Region (2017 compared to 2015)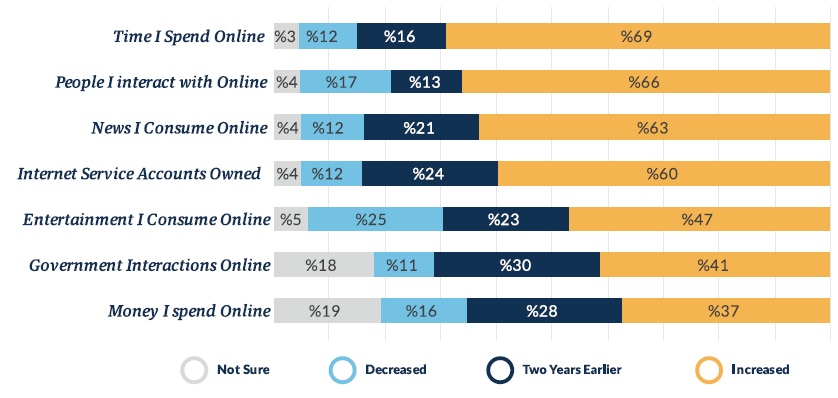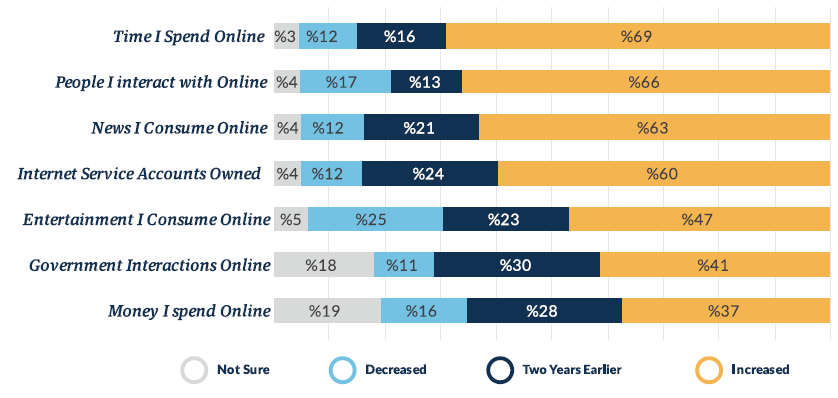 Source: MBRSG, "Arab World Online: Digital Transformations and Societal Trends in the Age of the 4th Industrial Revolution"[6]
A review of the information society status in the Arab region, based on the 10 national reviews prepared by participating countries, followed by a comparative analysis, led to the following main findings:
Sectoral Information and Communication Technology (ICT) strategies exist in one form or another across the participating countries in the Arab region. This includes e-government strategies and one or more of e-health/e-education/e-commerce/e-payment strategies. Few have action plans for broadband, cyber security, smart mobility or artificial intelligence. A number of national initiatives aimed at empowering the society as a whole by including women, youth and the disabled in building the information society. However, measurements of the digital divide, including the gender gap, are still limited in most Arab countries assessed. At the regional and international levels, the GCC countries show more coordination and collaboration than the other countries.
"In the Arab countries, loss of jobs due to increased automation may be partially offset by new jobs for youth in digital technologies"
Policy Frameworks for Infrastructure, Governance and Legal Environment
Telecom regulatory authorities in all Arab countries provide licensing for basic telecommunication services, mobile telephony companies and Internet service providers (ISPs), the latter two becoming fully competitive in practically all participating countries. Mobile phone penetration in all countries continues to grow, with penetration rates between 70 percent and 200 percent. Internet access from households is nearing 100 percent in GCC countries and between 45 and 80 percent for most of the others. Coverage of population by mobile services is high (80 to 100 percent) for most countries. Fixed-broadband subscriptions are for medium and high speeds in GCC countries and Jordan, and lower speeds in the other countries. Countries suffering from conflicts are focusing on rebuilding digital networks enabling universal access to ICTs, with broadband connectivity, using optical fibre connections. National backbones provide broadband network infrastructure, including WiFi hotspots, WiMAX services, 3G/4G mobile networks and Internet exchange centres, with links to submarine cables.
A variety of partnerships exist among stakeholders to cover key areas of the information society, particularly in ICT capacity building, entrepreneurship and infrastructure development. Between 2008 and 2018, participating countries enacted important legislations for the cyberspace including e-transactions, e-signature, e-payment and e-commerce. They developed a cybersecurity strategy and/or official cybersecurity standards, with cybercrime laws issued and specific units established to fight abusive activities.
ICT connectivity at the Arab regional level (2018)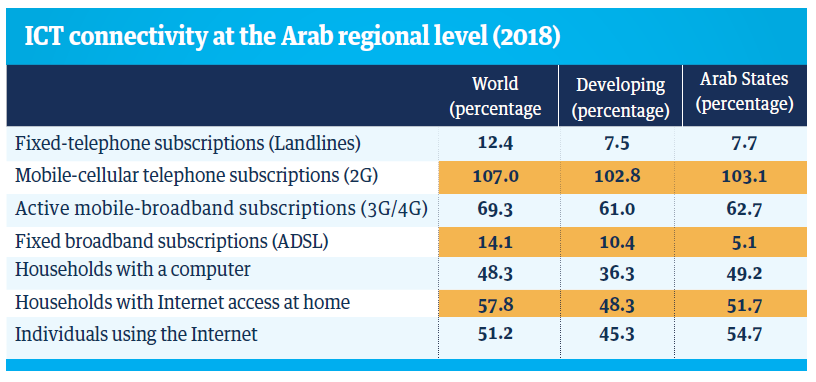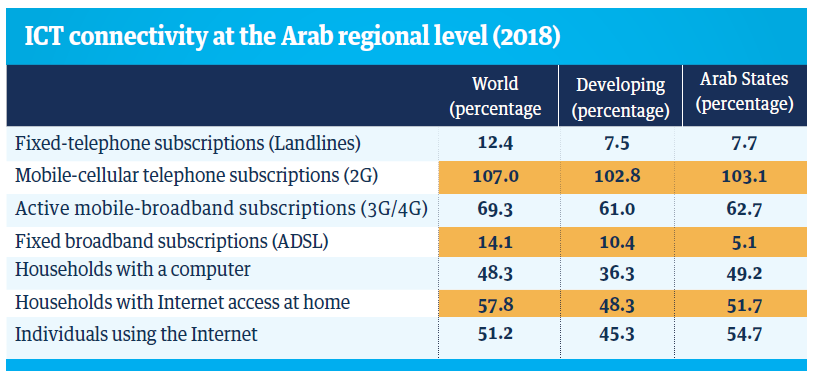 Source: http://www.itu.int/en/ITU-D/Statistics/Pages/definitions/regions.aspx
Policy Frameworks for Digital Economy and Economic Development
In participating countries, telecommunications firms are generally few, government owned and with high revenues and number of employees, while information technology (IT) companies are small in size, they count in the hundreds and are mostly private companies. Data on the IT companies are lacking, particularly on their structure, revenues, employees and gender segregated data. Across the region, ICT research, development and innovation (RDI) strategies are absent as well as mechanisms/tools for implementation. Limited funds exist to encourage small and medium size projects through incubators by young entrepreneurs and in special economic zones. ICT sector (essentially telecom) contribution to the GDPs of participating countries vary between 0.6 percent and 6 percent, based mainly on telecommunications revenues. While e-banking, e-commerce and e-business are flourishing in GCC countries, it is not the case in other Arab countries that are struggling to get e-commerce practiced by companies and citizens on a larger scale. Loss of jobs due to increased automation may be partially offset by new jobs for youth in digital technologies. Various forms of e-employment are practiced in the participating countries, particularly through employment portals and social networks, by posting of CVs and work announcements. However, teleworking is very limited in spite of its importance for women and people with special needs.
Policy Frameworks for Social Development
Although community access centres are available in few remote and disadvantaged areas to enhance inclusiveness by facilitating the use of the Internet and providing training, they do not cover the geography of the countries. Broadband access from homes and smartphones is not affordable for low-income families. Few virtual universities have been established to facilitate studies using online technologies, delivering knowledge to students in an interactive manner and preparing modern learning curricula. Adult literacy centres or schools are common, including some dedicated to girls, with computer labs for use in teaching. A number of participating countries have introduced IT as a subject in their school curricula and digitised textbooks to facilitate e-learning. Few initiatives, some dedicated to women, have been launched to increase digital literacy. E-government services are expanding in the region, with GCC countries reaching more advanced stages than most of the others, with e-payment and e-procurement lacking in half the participating Arab countries. A specific authority oversees e-government in each country, providing a portal with static information in all countries, and interactive services/e-payment in several countries. The ministries of health of all participating countries provide on their website's awareness raising information about public health issues for men, women and children. Hospital management systems are quite common, with limited linkages between hospitals and health centres. Telemedicine for the purpose of diagnosis and remote health care in disadvantaged areas is not common. However, ICT tools, including early warning systems, are used for tracking and monitoring cases of communicable diseases to limit their spreading.
Culture and Media Policy Areas
The Arab region possess a rich cultural heritage and digitization of historical documents, manuscripts and museum artifacts is being carried out in most participating countries. Centers of historical documentation have been established, and two or three-dimensional documentation of historical buildings, produced using high-quality digital photography as well as sound heritage are being built using e-platforms and websites to preserve the information and promote cultural activities. However, given their high cost, many countries tend to stop their development in times of crisis or economic difficulty.
The media landscape in the Arab region is diverse with governmental control in some countries and complete independence in others. While traditional media are still important, digital media increased the sources of information and their variety, lessened governmental control and provided two-way communications. It should be noted though that wherever gender disaggregated data are available, men still dominate the leadership in media companies. The readiness for the growing trend of convergence of ICT with various forms of media (Internet, TV, radio and newspapers) is moving at slower rate compared to more developed countries. All Arab countries agree that social media has changed the way people live, think and work in the region, sometimes for the better and sometimes for the worse.
Inclusiveness in building the information society
On the regional level, GCC countries lead the Economist Intelligence Unit (EIU) Inclusive Internet Index 2019. The index incorporates availability, affordability, relevance and readiness indices.  Most Arab countries have a gender gap varying between 3 percent (for Qatar) and 53 percent (for Sudan).[7]
Empowerment through Digital Development
Measuring empowerment seen through the data-for-development lens requires indicators for availability, usage and affordability of data, in addition to a measure for digitisation. Availability of 3G is relatively high for most of Arab countries, while Internet availability is low for the majority of these countries. Affordability of downloaded data is extremely low and constitutes a huge obstacle for the least developed countries in the Arab region. Low affordability of data download for countries in a state of conflict, inhibits empowerment. In the Arab region, the Digital Adoption Index (DAI) that measures the expansion of digital technologies in a country is highest for UAE (0.823), with GCC countries scoring well (above 0.65) and the least developed countries and those in a state of conflict scoring quite low (below 0.34). Hence, the GCC countries are well empowered for using ICT for development, while the others need a boost for ICT adoption.
The Policy Map for Digital Development in the Arab Region: Actions for Policymakers
Based on the findings of the regional report, thorough recommendations for the digital future of the Arab region where put forward, classified into complementary categories of policy actions, and geared towards different stakeholder groups:
Digital Strategies:
Digital Strategies for the SDGs: Develop regional (and sub-regional) digital strategies focused on achieving the SDGs and provide a common understanding of the requirements for realizing the international commitments as expressed in the 2030 Agenda.
Prioritize Strategically: Formulate a long-term vision for development at the national level, taking into account the most important digital transformation trends which affect socioeconomic development at the national and regional levels;
Align Strategies: Develop a master strategic sustainable development framework linking digital strategies to other national strategies and plans of action, ensuring their complementarity and synergy amongst all activities aimed at achieving key SDGs;
Measure the Information Society: Perform internationally agreed-upon measurements of the digital divides and other aspects of the information society on a regular basis to benchmark the country with respect to the region and the world, pointing to gaps and ways of recovering to help policy and decision-makers devise the required strategies;
Engage and Customize Action Plans: Develop a national digital strategy and sectoral strategies/plans of action that are well-articulated with the vision, in coordination with stakeholders from the private sector and NGOs, particularly professional NGOs, to be revised periodically, noting that indicators of achievement should be included in the strategies and plans of action;
Design Responses for Each Societal Demography: Produce disaggregated data by gender and age groups for all measurements of indicators, to differentiate the actions to be taken according to these data;
Leave No One Behind: Make sure that national strategies are inclusive, articulating the needs of the persons with special needs and people in remote and disadvantaged areas, with focus on the empowerment of women and meeting the needs of youth.
Infrastructure, Governance and Legal Environment:
Encourage Competition: Provide a competitive environment for basic telecommunications, including fixed telephony and fixed broadband, in order to reduce prices and improve services;
Advance Access to Broadband: Increase the international bandwidth for the Internet to allow universal access to data and information, including universal coverage for mobile broadband;
Ensure Wide Institutional Access: Ensure ubiquitous access by all institutions, including governmental, educational, cultural, social and health institutions;
Localize Access: Provide Arabic country code top-level domain (ccTLDs) and encourage all organizations, public and private, national and international to adopt fully Arabized URLs to facilitate the utilization of the Internet by all people;
Activate Internet Governance: Activate participation and involvement of public institutions in Internet governance (IG) forums at the international and regional levels, while establishing formal national IG events and activities;
Ensure Privacy: Adopt national cyber legislations for the protection of privacy and digital data and coordinate regionally;
Combat Cybercrime: Formulate a strategy and a legal framework to combat cybercrime at the national level, which should incorporate capacity-building of legislative systems and personnel;
Protect Children Online: Adopt measures for protecting the children from abuse on the Internet and legally enforcing them;
Mainstream Digital Transactions: Adopt policies and technical measures for safety and legality of e-transactions, e-documents and e-authentication and legally enforcing them.
Digital Economy, Employment and Trade:
Measure the Digital Market: Enforce formalization of the ICT economic sector, with the provision of information on ICT firms, including small IT companies, their classification according to size, revenues and workforce, while requiring them to deliver the latter structured by level of seniority and disaggregated by gender and age;
Align the Digital Ecosystem with National Economy: in Establish observatories for digital technologies to collect data about ICT goods and related industries as well as online trade, carrying out needed analysis leading to better knowledge of the ICT sector and its contribution to national economies;
National Research, Development and Innovation Strategies: Develop a RDI strategy for digital technologies involving governmental, academic and industrial institutions focusing on local needs and the development of advanced digital goods for export;
Create Global Value Partnerships: Collaborate with regional and international establishments/institutions on RDI for digital technologies through global partnerships;
Create and Incentivize Clusters: Facilitate investment in digital technologies through the development of special economic and industrial zones, through tax reduction and procedure simplification;
Mainstream Electronic Financial Transactions: Accelerate the adoption of e-payment and e-commerce processes and facilitate their implementation and expansion at the national and regional levels;
Measure Knowledge Economy Employment Trends: Collect and publish statistics on employment in the ICT sector and on e-employment, with gender- and age-disaggregated data in support of initiatives for the empowerment of women and youth;
Upgrade Employment Structures: Formally recognize teleworking as a legitimate form of employment with all recognized rights and privileges.
Social Inclusion:
Bridge the Urban-Rural Divide: Expand the geography of access and knowledge centers to cover all remote and disadvantaged areas and to provide a variety of e-services and specialized training to cover the needs of the society;
Expand Basic Access and Connectivity: Provide broadband connectivity to homes at reduced prices in order to increase affordability for the low-income families and encourage the use of the Internet for access to knowledge and important applications such as e-government, e-learning and e-health;
Upgrade Education and Capacity Building Streams: Develop modern learning curricula in schools with the use of e-books, including future skills as a major subject;
Inclusive Virtual Educational Channels: Establish virtual schools and virtual universities to facilitate studies for youth in remote areas, and provide high quality education for all;
Expand Digital Government Services: Develop and expand e-government services to become interactive with e-payment and e-procurement and the possible use of social media tools and apps on smartphones and tablets to accomplish these services, noting that e-government remains the national backbone and central engine for building the digital society.
Upgrade E-Health Infrastructure: Develop a national e-health strategy and implement it, including advanced and harmonized networked hospital management systems and pharmaceutical management systems following compatibility standards, as well as telemedicine and follow-up digital systems.
Culture and Media:
Accelerate Cultural Digitization: Digitize public libraries, their archives, historic manuscripts, museum artifacts and historic buildings to facilitate access to knowledge and in preparation for the coming digital transformations;
Empower Digital Media: Increase the number and variety of digital media to enrich the social, political and economic landscapes of the Arab countries;
Measure Digital Media Landscape: Provide detailed information about national media establishments, their structure, available expertise and management competencies with gender disaggregated data;
Enable Media-ICT Convergence: Formulate national convergence strategies between ICT and media and collaborate with other Arab countries to provide regional convergence strategies;
Create Online Participatory Channels: Harness social media to accelerate development through a participatory approach, by cultivating awareness about social media, their usefulness and effectiveness as well as the nuisance of their unrestrained behavior.
 The Way Forward
These National Digital Development Reviews and the Arab Digital Development Report is the means to an end. Moving forward, the ultimate goal is to develop a 2030 pan-Arab Digital Development Agenda, as well as National Digital Development Agendas customized at the national level to the specificity of each country in the region. The challenge is to have a coherent vision among policymakers in the region, one that allows interoperability, complementarity, as well as efficiency and efficacy towards achieving the 2030 Agenda's aspirations of a brighter, digitally inclusive and empowering future for the whole Arab region. These are the ultimate goal of 2020/2021 for the UN-ESCWA and partners from the League of Arab States, and other prominent organizations, federations, and councils. There is no better time to forge coordinated regional policy responses towards these goals.


Ayman El-Sherbiny is the Chief of Information and Communication Technology Policies at the United Nations – ESCWA. Read full bio here.
Endnotes:
[1] The article was written by Mr. Ayman El-Sherbiny, Chief of Information and Communications Technology Policies Section (ICTP Section) at the United Nations Economic and Social Commission for Western Asia (ESCWA) in his personal capacity. It was based on the Arab Digital Development Report – ADDR (United Nations – 2019) – a UN publication issued by ESCWA, all rights reserved to the organization. Special thanks and appreciation from the author of the article to the colleagues participating  with him in the process of preparing the ADDR, namely Ms. Mirna Barbar, Program Management Officer in the Section, Ms. Zahr Bou Ghanem, Research Assistant in the Section, and Mr. Mansour Farah, ESCWA Consultant on Digital Development Policies, for their rich contributions and valuable efforts.
[2] https://unctad.org/en/PublicationsLibrary/der2019_en.pdf 
[3] https://www.worldbank.org/en/topic/digitaldevelopment/overview#1
[4]  "Empowering people and ensuring inclusiveness and equality" was the 2019 theme of the High-Level Political Forum (HLPF) on Sustainable Development. The forum involves all Members States of the UN and States members of specialised agencies and carries out regular voluntary reviews of the 2030 Agenda which includes developed and developing countries as well as relevant UN entities and other stakeholders. The reviews are state-led, involving ministerial and other relevant high-level participants, and provide a platform for partnerships, with participation of relevant stakeholders.
[5] These themes were largely derived from the themes of the High-Level Political Forum (HLPF) in 2018 and 2019.
[6] MBRSG, "Arab World Online 2017-2021: Digital Transformations and Societal Trends in the Age of the 4th Industrial Revolution"
https://www.mbrsg.ae/home/publications/research-report-research-paper-white-paper/the-arab-world-online-2017.aspx
[7] The Economist Intelligence Unit (EIU) Inclusive Internet Index 2019 was computed for 100 countries (including 11 Arab countries with five GCC countries). Source: theinclusiveinternet.eiu.com